The movement of people (and its consequences)
This chart shows the "slow train wreck" that is Eurozone youth unemployment - courtesy of Pedro da Costa of Reuters: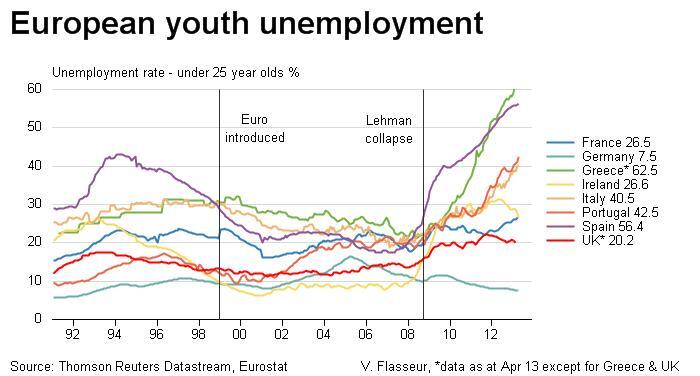 (larger version here)
This adds up to an aggregate
youth unemployment figure
of 23.3% (in March 2013) for the Eurozone as a whole.
This is what the European Commission
plans to do about it
:
The Youth Employment Initiative was proposed by the 7-8 February 2013 European Council with a budget of €6 billion for the period 2014-20.
The Youth Employment Initiative would particularly support young people not in education, employment or training in the Union's regions with a youth unemployment rate in 2012 at above 25% by integrating them into the labour market.
The money under the Youth Employment Initiative would therefore be used to reinforce and accelerate measures outlined in the December 2012 Youth Employment Package. In particular, the funds would be available for EU countries to finance measures to implement in the eligible regions the Youth Guarantee Recommendation agreed by the EU's Council of Employment and Social Affairs Ministers on 28 February. Under the Youth Guarantee, Member States should put in place measures to ensure that young people up to age 25 receive a good quality offer of employment, continued education, an apprenticeship or a traineeship within four months of leaving school or becoming unemployed.
The Youth Employment Initiative would be complementary to other projects undertaken at national level, including those with European Social Fund (ESF) support, with a view to setting up or implementing the youth guarantee schemes, such as reforming the relevant institutions and services.
Of the funding, €3 billion would come from a dedicated Youth Employment budget line complemented by at least €3 billion more from the ESF. Given Member States' current budgetary difficulties due to the economic crisis, only the European Social Fund contribution would require Member States to top up with their own financial contribution.
Is €6 billion, of which part must come from the Member States with the most serious youth unemployment problems, really going to do any more than just scratch the surface of this problem?
And with GDP crashing in the countries with the highest youth unemployment, where are these jobs going to come from anyway?
The BBC's Newsnight programme recently interviewed the CEO of the Berlin Stock Exchange, Artur Fischer. Newsnight tweeted the following:
CEO of Berlin Stock Exchange Artur Fischer has told #newsnight most jobs will not be available in Greece, Greeks need to leave the country
— BBC Newsnight (@BBCNewsnight) May 10, 2013
It's already happening, and not just from Greece. Here's a selection of news reports this year about the emigration of young people from the hardest hit Eurozone countries:
Ireland
The chart shows a downturn in Ireland's youth unemployment, from over 30% in early 2012 to 26% now. This is why:
"In the past four years, over 300,000 people have emigrated from Ireland; 40% were aged between 15 and 24".

- RTE News, 9 May2013
Portugal
The migration of people from Portugal - of all ages, but particularly the young and talented - has become a national emergency.
"

More than 2% of Portugal's population have emigrated in the past two years....

Most were young, highly-educated people fleeing to Switzerland or the oil-rich former Portuguese colony Angola."

- BBC News, 25 January 2013
Spain
Spain currently has the second highest youth unemployment in the Eurozone. But its general unemployment level is very high too. According to El Pais, the largest exodus has been among young professionals aged 25-35. They are not strictly "youth"....but the younger ones are starting to go too:
"Spain's jump in unemployment has seen an exodus of youth, with tens of thousand of young Spaniards, many of them university graduates, looking for better opportunities in countries such as Germany and Britain and former Spanish colonies in Latin America......

"A study by analyst Real Instituto Elcano in February shows 70 percent of Spaniards younger than 30 have considered moving abroad."

-

Al Jazeera English

, 7 April 2013
As I shall explain shortly, Italy has a history of economic emigration. The difference is that whereas in the past emigration has mainly been from the poor South - and is one of the principal reasons why the South has remained poor - this time it is from the richer North.
"Emigration from

Italy

rose by nearly a third last year to 79,000, with a growing number of young people choosing to leave the crisis-hit country, Italian media reported on Sunday, citing official data....

with those aged 20 to 40 making up 44.8 percent of the total, from 28.3 percent in 2011."

- The Daily Star, Lebanon, 7 April 2013
It's not just how many young Greeks are leaving, it's who they are. Brain drain:
"

Greek emigration to Germany jumped by more than 40% last year.....

"

A recent study by the University of Thessaloniki found that more than 120,000 professionals, including doctors, engineers and scientists, have left Greece since the start of the crisis in 2010."

- BBC News, 30 May 2013
I do not wish anyone to think that I am bewailing the "terrible fate" of young people having to leave their homes in search of work. I certainly am not. There is nothing new - and nothing intrinsically undesirable - about young people emigrating to seek their fortunes in another country. T
o give a personal example, my great-uncle, Henry Dodson Noon, left the UK for Australia in the first decade of the twentieth century. His family were farmers, but he saw no future in farming in the UK at that time, so he went to Australia to carve out a new life for himself as a sheep farmer.* He was one of many young British men who left at that time. And my ex-husband's family are among a sizeable number of Italians who left a depressed Italy to seek new lives as hotel, cafe and small shop owners in Scotland (the most famous of them was Lord Forte of "Trusthouse Forte" fame, whose first hotel was opposite my father-in-law's cafe in Alloa). To this day they maintain links both with their Italian origins and with their adopted country, even though many of them - including my ex-husband - no longer live in Scotland either. I am sure my readers can come up with plenty of examples of their own. In human history, the movement of people is a feature, not a bug. It is how we create new lives for ourselves and how we develop and grow new economies. It is not, of itself, a bad thing.
The problem is that the migration of young people from European countries may create even more difficulties for those left behind. The demographic timebomb awaiting Europe is nicely explained in this video from Reuters, which focuses on Latvia - which has already suffered a huge exodus of young people, as have other Eastern European countries. Are our family ties still strong enough for these highly-educated young people to send money back to the older generation that they leave behind, as young migrants in the past have done, and still do in many other parts of the world? Because if not, the future looks very bleak indeed for ageing populations in depressed countries in the South of Europe.....
Related links:
Portugal - immigration statistics
Latvia struggles with "demographic disaster" - France24 (h/t Andrew Lainton)
The Shortage of Bulgarians inside Bulgaria - A Fistful of Euros
* Sadly it did not last long....he was called up to serve in the Anzacs in WW1, was wounded at Gallipoli then killed on the Somme. He was my great-grandparents' only son....Like most people in the UK, my family lost members not just through emigration but through war.